Frequently asked questions
Working with an editor FAQs
Why should I use an editor?
No publisher would ever think of producing a document without involving an editor. Editors know how to maximise the efficiency, and minimise the stress, of the writing process. They also know how to ensure the quality of the final product. If you are planning to produce a substantial document, your team is not complete unless you include someone with our skills.
Will editing make the job slower?
Editing turnaround times depend on the size of the job, the work required and the advanced notice provided. Like all stages of the writing process, the timeline should include editing. If the editor is involved early, the timeline can usually be shortened because the editor will identify opportunities to improve efficiency. We have never had a project where the client has regretted allocating time to editing, even if this has meant extending the timeline a little.
What can I expect from working with an editor?
You can expect to maintain complete control over your concept and the direction of your document while saving time, effort and stress by having a professional editor guide you through the process, while doing some or most of the work for you. You will gain access to decades of writing and editing experience that will save you time, money and effort. You will also gain access to our library of checklists and guides to improve your knowledge of writing and editing. All this will make things much easier for you.
Does it pay to use

Get it Write!

?
A writing job of 30 or more pages usually costs an organisation many thousands of dollars in staff, physical resources, consultants and outside expertise. Get it Write! knows from decades of experience where the inefficiencies are in writing processes and how to minimise them. We save you much more than what you pay to engage us.
Can I still call it my work when I'm using a writer / editor?
Yes, you can. Writers and editors are team members who have no copyright claim. Copyright arrangements are determined by our clients.
Will

Get it Write!

be good to work with?
We aim to be! We often get new clients who have never used an editor or writer before. They can't imagine what the process will be like and are concerned about how we will approach their work, to which they often have a strong intellectual and emotional attachment. We understand and respect these feelings and seek to be friendly, informative and helpful, showing clients well in advance what is likely to happen and what their options will be.
Our website has something for every professional who writes, whether you have a draft document now, you are working on one, or you are planning one.
Use the flowchart below to see which service best suits your needs.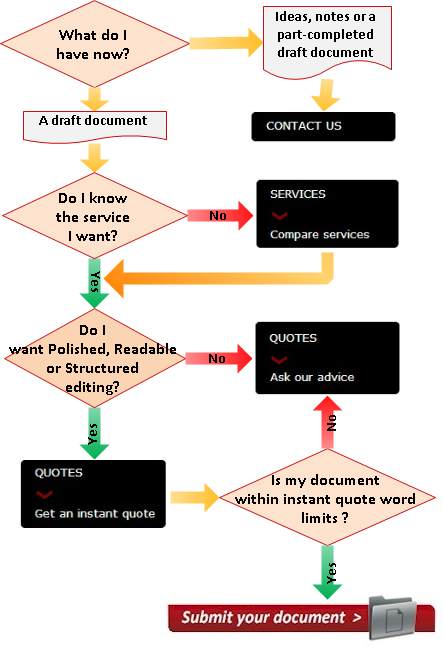 What if I can't decide on a service?
If you can't decide on a service, we'll be pleased to review your draft document and give you a no-obligation opinion about what editing it needs. Just go to the Ask our advice about your document page.
How exactly do I involve

Get it Write!

?
No two writing jobs are the same. On one, we might spend most time helping with initial job planning. On another, we might only receive the text after it's been drafted. It's best to talk with us as early as possible to find out how we might fit in with and contribute to your team: talking with us is free, and with no obligation.
What if I'm not ready to place an order yet?
If you have a draft document and want a no-obligation opinion about what editing it needs, go to the Ask our advice about your document page.
If you've not yet got to the stage of having a draft document, go to the Contact us page and tell us about your project. The earlier you contact us, the more time, effort and stress we can save you.
What are your business hours?
Get it Write! business hours are 09:00 to 17:00 Melbourne, Australia time Monday to Friday. Our four-hour and same time next day turnaround guarantees apply for these hours. However, we work outside these hours to ensure we meet guaranteed turnaround times and get your document back to you quickly.
Why are there word limits for instant quotes?
We offer a high-quality service matched to the particular needs of your order. The time we need to do this very much depends on the quality of what you provide us with. For documents above the word limits of the instant quote calculator, we want to review the document to confirm that the document quality assumptions on which we base our quoting algorithm hold true for your document. If they don't, we would either undercharge or overcharge you, which would be unfair to one or other of us.
Why don't you have Written instant quotes?
For Written services, we need to talk with you to find out how far you are into your writing project, and what services we can provide.
How confidential is my document?
Your document is very safe with us. We edit high-level confidential documents (including cabinet-in-confidence documents and government audit reports) and we take confidentiality seriously.
All documents and payment information are sent over a secured socket layer (SSL), which is an encrypted link between a web server and browser. SSL is an industry standard and is used by millions of websites to protect online transactions with their customers.
Get it Write! has policies and procedures to protect the privacy of our clients and the confidentiality of their information. For more information, see Privacy and disclaimer.
How do I set up a payment agreement?
If your organisation wants to use our editing services regularly, we invite you to organise a payment agreement with us.
An agreement is a standing order that specified people can use to order editing services, without the bother of organising payment for each small order. We give you an agreement number which you use when ordering work through our website. When we process your order, we check that it meets the requirements of the agreement. Each month, we invoice you for the services provided under the agreement, with full details of all orders.
To organise an agreement, please contact us.
How confidential are my credit card details?
We comply with industry best practice and bank requirements to protect credit card details. Our database does not store credit card details. Our only record of them is the transaction record for your order, which is only accessible to our Director.
What happens if I want further editing done?
The quote covers all the items ticked in the table on the Compare services page, for the particular service you chose. Please note that we do not include some items, or include variations of them, in instant quotes. Details of any qualifications to the services offered are spelt out in the pop-up box for each item on the Compare services page, on the page explaining each service, and on the How we work page, under What your quote covers.
We may make comments or suggestions on your document when we edit it. If you take our advice, some text may need rewriting, or more text might be needed. Instant quotes do not cover this extra work, or any further changes you want made after we return your edited document.
We charge further editing at our current per-hour rate. Clients commonly want further editing of their documents, and we value the opportunity to work with you to make your documents the best they can be.