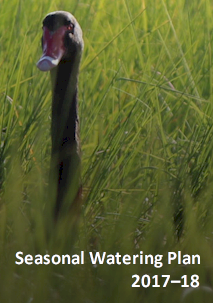 Seasonal watering plan 2017-18
Rain for most people means breaking out a brolly. But getting the right amount of water — not too much and not too little — is essential for the health of Victoria's rivers, lakes and wetlands, and for native plants and animals that rely on them for food and habitat.
Our client, the Victorian Environmental Water Holder, works with public land managers, waterway and storage managers, local communities, traditional owners and scientists so the environment gets its fair share of the available water. Its Seasonal Watering Plan 2017-18, which we edited, sets out the environmental watering that will occur under drought, dry, average and wet conditions across Victoria's river systems.
Big (192 page) plans like this are usually produced as separate documents by different authors. So, first we bring them together, standardise the styles and remove style irregularities. This saves the graphic artist going mad working out what's text, what's headings and what's something else. Then there's the word-by-word, careful reading from start to finish to improve the writing where necessary and fix errors, mistakes, unintended duplication and inconsistencies. Finally, we just had to escape to the Thomson River valley to see Victoria's natural beauty for ourselves!
We also edited the seasonal watering plans for 2016-17 and 2015-16.
Services provided: structured, readable and polished editing; proofreading; review of page proofs.